Story
The World Kindness Movement (WKM) is an international NGO with no political or religious affiliations. The formation of the movement crystallized at a conference in Tokyo in 1997 when Japan brought together like-minded kindness organizations from around the world. The WKM was later launched in Singapore on 18 November 2000 at the 3rd WKM Conference.
WKM is now recognized as the peak global body for Kindness and whilst not a governing body, the Movement provides a platform for collaboration and sharing. Members of the movement include over 28 nations with representatives from Australia, Brazil, Canada, China, France, India, Italy, Japan, Liberia, Malaysia, Mexico, Nepal, Netherlands, New Zealand, Nigeria, Oman, Pakistan, Romania, Scotland, South Africa, South Korea, Switzerland, Thailand, United Arab Emirates, Ukraine, Uganda, United Kingdom Zimbabwe, and with six member organizations in the USA.
Following the elections at the London 7th General Assembly in 2012, the kindness torch was passed from Singapore to Australia for the first time and Australia was appointed as the organization's Secretariat. The 8th General Assembly in 2014 saw China, France, Switzerland and Thailand appointed to the International Council for the fist time.
In 2017 at the 9th General Assembly in Seoul the Movement welcomed WKM's new International Council representing South Korea, Switzerland, India, Australia, Nigeria, China, Malaysia and Mexico. The Council strives to inspire its members and our world leaders, that the vision of a kinder world can be realized in our lifetime.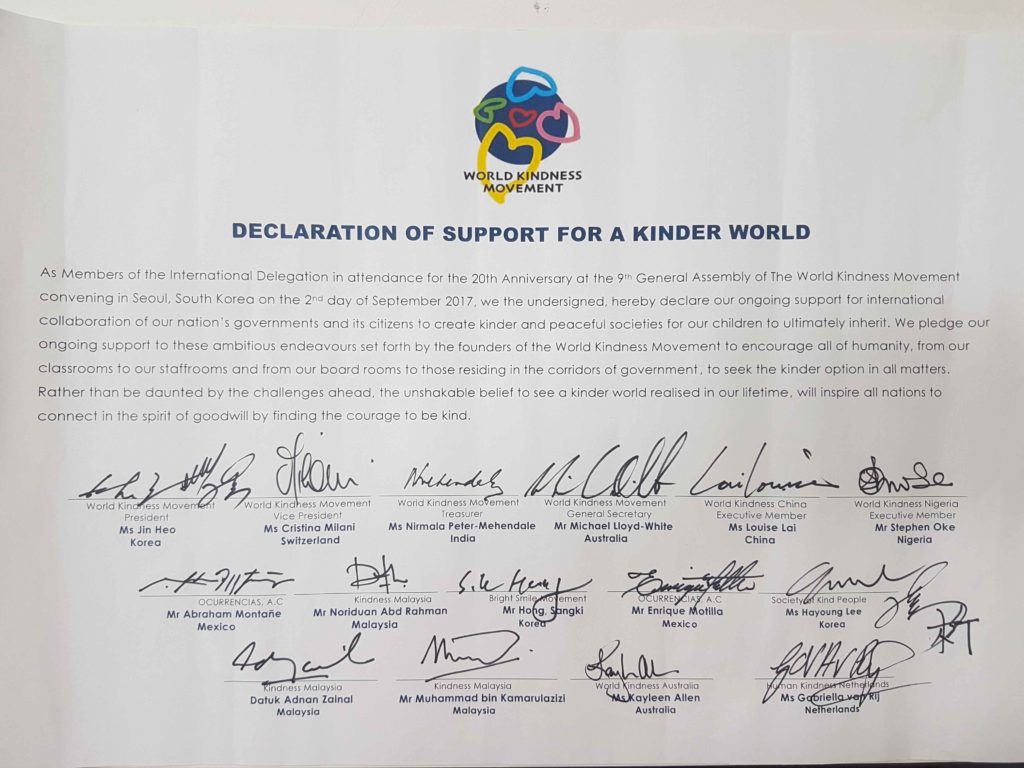 Mission
The mission of the World Kindness Movement (WKM) is to inspire individuals and connect nations to create a kinder world. The WKM encourages and supports individuals, communities, cities and nations to establish independent kindness organisations to join the World Kindness Movement to see a kinder world realised in our lifetime.
The objectives of the Movement are:
To raise awareness of the World Kindness Movement
To share ideas and experiences of kindness programs in different countries; and
To increase international membership and to provide opportunities for members to network and collaborate among themselves.
World Kindness Day November 13th
World Kindness Day is internationally observed on 13 November of each year. It was introduced in 1998 by the World Kindness Movement, then a coalition of national NGOs with a primary focus on kindness. World Kindness Day is to highlight good deeds in the community focusing on the positive power and the common thread of kindness which binds us.